We're taking a bit of a break as the lovely Diane Forster has relocated to NSW.  Please feel free to contact me if you want to hook up with some blues players. x Jen
NEXT SESSION:  WEDNESDAY 20 April 2016.  
7pm to 10.30ish
Entry: gold coin donation
WE'VE MOVED! KENSINGTON/FLEMINGTON BOWLS CLUB.
cnr Smithfield and Racecourse Rds, Flemington.
Bar is open but no meals available.
We've got a big night planned! The inaugural SWIB blues choir run by Kelly Auty  followed by Special Guests, Miss Whiskey.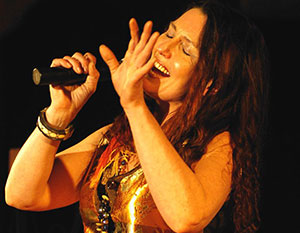 ————————————-
7.00: Blues Choir with Kelly Auty
8.00:  Miss Whiskey performance and talk.
9.00ish: Jam for those inclined to have a sing or play on stage.
(Hey ladies….we're looking for drummers, guitarists, bass and keyboard players to back the singers).
 What's it all about?
A 'Women in Blues' project has evolved and we'd love you to come along and join us!
The project has been fueled to date by Jen Hawley – respected guitarist/singer, Michelle Johns, keyboardist, Diane Forster (MBAS committee) and is supported by the Melbourne Blues Appreciation Society. We share a common personal passion to foster and develop increased opportunities for women in our music community.
The plan for each quarterly meeting is to have a different guest musician from the Blues scene to perform as a feature artist and also provide mentoring.
aim to empower women with an interest in music at any stage of their development to move forward from where they stand now, whether that's from the lounge room to the stage or from a little stage to a festival stage!…  This group is also about feeling supported, networking, creating a community and developing skills in various areas including the more technical aspects, ie. not just about performance.
We plan to cover many different topics over the year including some of the following ideas:
Stagecraft, hand percussion, mixing, group singing, harmonies, mic technique, playing together as a band, improvisation, getting gigs.
HOUSE RULES:
This is a safe space.  Encouraging each other is what it's all about!
The mentor is the only one to provide feedback.  This includes volume on stage.  Please accept constructive feedback graciously if you're on stage.
Playing/singing is voluntary – no pressure to perform.
See more online:
Facebook: https://www.facebook.com/supportingwomeninblues/
Jen's website: http://jenhawleymusic.com/women-in-blues/#sthash.HotFhwSd.dpuf
Contact us:
Diane Forster: 0433 712714
Jen Hawley: 0413 128052
Michelle Johns: 0418 666791