Great Chefs of Europe – Parisienne Swing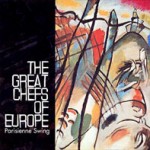 "Parisienne Swing" recorded 2002
The Great Chefs Of Europe are:
Martin Elepans – guitar/vocals

Jennifer Hawley – guitar/vocals

Mathew Arnold – violin/viola

Rob Mahoney – double bass
Titles
1. I Love Paris
2. R Vingt-six
3. Rumanian Dance
4. Themes from Carmen
5. Ney Ney Nah
6. Spell
7. Sous le ciel de Paris
8. J'attendre
9. Invisible Angel
10. Summertime
11. Si tu Savais

More Details
REVIEWS Steve Robertson is host of PBS-FM's Jazz on Saturday at 9 a.m., and has been a writer on jazz topics for more than 30 years in Australia and the USA. It's been more than 70 years now since a group of young musicians from vastly different backgrounds got together in Paris and formed the Quintet of the Hot Club of France. Its undoubted stars were violinist (and sometimes pianist) Stephane Grappelli and an illiterate Belgian gypsy with a hideously burnt left hand named Django Reinhardt.
This group created music that was fresh, daring and passionate, the first truly important non-American jazz band in history. That tradition of fire and mystery is ably carried on these days by Melbourne quartet The Great Chefs of Europe, their name perhaps harkening back to a film all about murdering said chefs.
No matter, this is a foursome which draws upon well-known Hot Club melodies, the evocative songs of Paris, and some worthy originals to create a fine and very listenable album called Parisienne Swing.The strengths of the group lie in its smooth cohesion and the individual excellence of its soloists. To carry off this repertoire, your violinist must possess sure technique, a lovely tone and the ability to swoop a la Stephane . Mathew Arnold succeeds admirably in all those tasks. Martin Elepans does a fine job of channeling Django without ever sounding like his clone (swing guitar playing HAS evolved just a bit in these last 70 years, and Martin's solos reflect that progress without ever losing essential Django-ness).
Records of the original Quintet rarely included vocals, but the Chefs do, and it's a good thing. Jennifer Hawley is consistently in tune (thank heaven), and brings to the slower melodies a luscious come-hither sexiness that provides a welcome contrast to the instrumentals. Her guitar playing is strong and sure, as is the bass work of Rob Mahoney.
Favourite tracks? Easy: The atmospheric original Invisible Angel by Martin is a gem, full of arresting harmonic twists and a mouth-watering instrumental blend.R Vingt-six is the only Django tune in the program (on the next CD, can we have a couple more?) and it swings with joyous abandon. I Love Paris is the well-known Cole Porter opus and it sets the mood effectively, and Si tu Savais , the final track, ought to be a standard for similar groups the world over. Perhaps now it will be.
Because their members tend to travel rather a lot, perhaps you haven't hear the Chefs live yet.Well, when the opportunity arises, do yourself a favour and catch up with this fresh and delightful combo. Until them, this rich and melodic CD will do very nicely, indeed.
Skirl – She Fly Away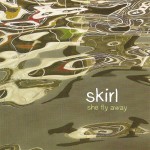 recorded 2008, Skirl is
Bronwyn Calcutt: vocals/accordion/percussion
Flip Case: vocals/percussion
Jen Hawley: vocals/guitar/snare
Melita Jansen: vocals/percussion
Jen Skate: vocals/percussion
Titles
1. See Line Woman
2. Donna Juana
3. Body Language
4. Miss Celie's Blues
5. Masquerade
6. Smallest Things
7. Cumbia de Buddha

Updating…